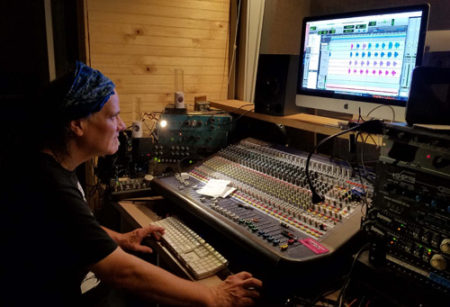 How many documentaries have their own theme song? Dirtwoman does!
I wanted "Oregon Hill" by the Cowboy Junkies to play under the neighborhood montage, but that didn't work out. I was considering how to accompany several segments in the doc where I needed a song, so I proposed the idea to Barry Fitzgerald, my longtime friend and collaborator (we created 4 bands together in the 70s). A few days later, he sent me "Roses & Garlic."
In collaboration with his band, Thing2, they created the finished arrangement. In addition to Barry on keys, it's Johnny Hott on percussion and Jeremiah Shriver on bass.
We went to Sound of Music to record. They generously hosted the Dirtwoman Toast in 2017, so John Morand was thrilled to be involved with the project a year later! He did a great job of mixing the song (that's him at work above).
This excerpt goes under the RVA montage early in the doc. There are additional verses for Oregon Hill and Grace Street, plus a full-length version under the closing credits (featuring Donnie dancing!).